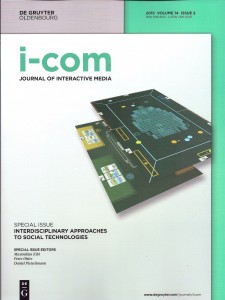 The latest issue of the Journal of Interactive Media, i-com vol. 14(2) is a special issue titled "Interdisciplinary Approaches to Social Technologies". The issue was edited by Maximilian Eibl, Peter Ohler and Daniel Pietschmann and features peer-reviewed articles from several Crossworlds members from both the first and second group:
Michael Storz, Kalja Kanellopoulos, Claudia Fraas and Maximilian Eibl discuss Tabletops in their paper "Designing with Ethnography: Tabletops and the Importance of their Physical Setup for Group Interactions in Exhibitions".
Benny Liebold, René Richter, Michael Teichmann, Fred Hamker and Peter Ohler investigate "Human Capacities for Emotion Recognition and their Implications for Computer Vision".
Maria Wirzberger and Nele Russwinkel present their work in "Modeling Interruption and Resumption in a Smartphone Task: An ACT-R Approach".
Madlen Wuttke, Valentin Belentschikow and Nicholas Müller discuss novel learning approaches in their paper "Storytelling as a Means to Transfer Knowledge via Narration"