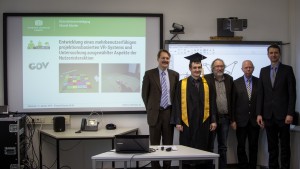 Our dear Crossworlds colleague and friend Vincent Küszter successfully defended his PhD thesis today. Vincent's work is titled "Enwicklung eines mehrbenutzerfähigen projektionsbasierten VR-Systems und Untersuchung ausgewählter Aspekte der Nutzerinteraktion" (Development of a projection-based multi-user VR system and evaluation of specific aspects of user interaction).
His talk was attended very well and the organizers soon ran out of chairs. Dr. Küszter will continue his work on the prototype platform as associate member of Crossworlds. His new platform is used for further projects and psychological studies by members of the second group of graduates and also as a research tool in master's courses of the Master of Science program "media psychology and instructional psychology". His dissertation will be available as monograph, soon.
Congratulations from the whole Crossworlds team, Vincent!