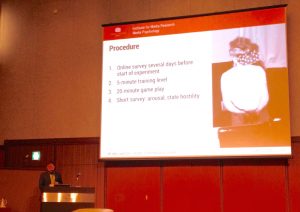 Late spring, as every year, marks an academic highlight in media research as the Annual Conference of the International Communication Association (ICA) invites thousands of scholars from all over the world to discuss their latest research. To seize this opportunity, CrossWorlds members Daniel Pietschmann, Benny Liebold, Kevin Koban, and Jan-Philipp Stein as well as associated member Nicholas H. Mueller went far east to Japan to participate in pre-conferences in Kyoto and Tokyo and, finally, to present a total of seven research papers at the main conference in Fukuoka.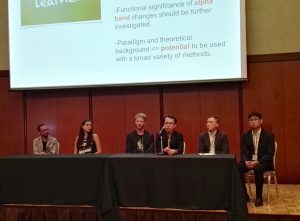 The presented papers covered a broad range of topics including novelty and learning effects of naturally mapped video game controllers (Benny Liebold and Daniel Pietschmann together with Nick Bowman from West Virginia University), psychophysiological foundations of breaks in presence (Benny Liebold, Daniel Pietschmann and Peter Ohler in collaboration with colleagues from the University of Wuerzburg, Michael Brill and Frank Schwab), recreational media use (Kevin Koban together with associated member Georg Valtin and research student Sandra Rogenz), or suspense in cliffhanger situations (Nicholas H. Mueller).
Alongside, the CrossWorlds group was busy extending their research networks and even building collaborations. This might yield some interesting results in the not too distant future.