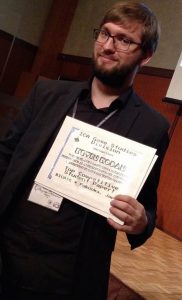 We are proud to announce that CrossWorlds collegiate Kevin Koban won the Best Student Paper Award of the Game Studies Division at this year's ICA Conference in Fukuoka with his work on problematic video gaming titled "I hate it, but I can't stop. Addictive tendencies as a mediator for negative game experience in a mobile trivia game".
Conducted together with his supervisor Peter Ohler, the paper emphasized a meaningful, but often neglected differentiation between video game enthusiasm and problematic gaming tendencies with regard to players' individual dispositions, gaming motivations as well as positive and negative experience while and immediately after a gaming episode. In this context, the study's sample contained both casual and hardcore gamers of the mobile trivia game QuizClash including 140 of the top 1000 players from Germany, Austria, and Switzerland.
If you want to take a look into the results, the presentation slides can be downloaded here.