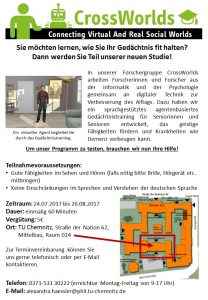 Do requirements on digital learning facilities change with increasing age?
To address this question, an interdisciplinary group of CrossWorlds researchers developed a memory training framework that features a virtual agent and operates on speech-based interaction. The fruitful collaboration between Human Factors graduate Maria Wirzberger, computer scientist René Schmidt, and Maria Barlag, holding a master's degree in "Intelligent Media and Virtual Reality", provides a bright example of elaborated research emerging from the unique concept of the Research Training Group.
During the following weeks, the researchers will test their prototype and thus look for adult participants with native German language skills across all age groups. All colleagues, students, family members, friends and acquaintances are invited to join! Details regarding time, location and contact are provided on the flyer.