Accommodation
We made special arrangements for accommodation with the "Hotel an der Oper". Conference attendees will be able to enjoy Chemnitz' best city view for 60 Euro per night! (Price includes rich breakfast buffet, access to spa area with sauna and taxes.)
Room reservation will not be part of the online registration. Please book your room yourself using the code for the special arrangement: "crossworlds14".
The "Hotel an der Oper" is located in the very centre of Chemnitz with a bus connection to the conference location every 10 minutes. To make sure you have a convenient transfer there will be a meeting point in the lobby with guides departing 45 respectively 30 minutes before the conference starts.
Location
CROSSWORLDS 2014 will take place in Chemnitz (Campus Erfenschlager Straße) in the innovative project house METEOR within two walking minutes from the the bus stop "TU Erfenschlager Straße" (line 51).
How to get to Chemnitz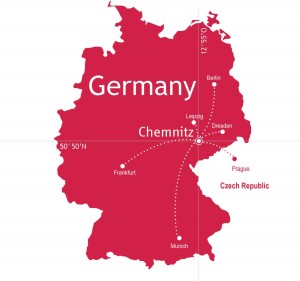 The easiest and most convenient way of coming to Chemnitz from abroad is via Dresden or Leipzig Airport. Trains from Dresden or Leipzig to Chemnitz depart hourly.
For participants located in middle Europe the train connection over Leipzig might be quicker and more convenient.