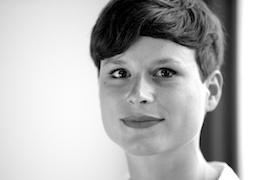 Technische Universität Chemnitz
Philosophische Fakultät
Institut für Medienforschung, Professur Medienkommunikation
Reichenhainer Straße 70A, Raum. 316, 09126 Chemnitz
Tel. 0371 531-32493
Fax. 0371 531-832493
E-Mail: kalja.kanellopoulos@phil.tu-chemnitz.de
Promotionsprojekt
"Innovative Formen von Kommunikation und Interaktion – eine ethnographische Studie an interaktiven Schnittstellen im Museum" im Forschungsteilbereich Kommunikation
Betreuung durch Prof. Dr. Claudia Fraas (Professur Medienkommunikation) Tandempartner: Michael Storz, M.Sc.
Forschungsinteressen
Qualitative Sozialforschung
Science and Technology Studies
Human-Computer Interaction
Interaktionsdesign
Rhetorik
Mitgliedschaften
Vita
| | |
| --- | --- |
| seit 04/2012 | wissenschaftliche Mitarbeiterin am Graduiertenkolleg "Crossworlds" an der TU Chemnitz |
| 2010 – 2012 | Wissenschaftliche Hilfskraft im Rahmen des DFG-Projekts "Historisches Wörterbuch der Rhetorik" am Seminar für Allgemeine Rhetorik, Eberhard Karls Universität Tübingen |
| 2007 – 2008 | Auslandssemester an der National and Kapodistrian University of Athens |
| 2006 – 2010 | Werksstudentin CeveyConsulting GmbH |
| 2004 – 2011 | Magisterstudium Soziologie, Allgemein Rhetorik, Neuere Deutsche Literaturwissenschaft |
Publikationen
Storz, M.; Kanellopoulos, K. (accepted, 2014). ComforTable – A Tabletop for Relaxed and Playful Interactions in Museums. In ACM international conference on interactive tabletops and surfaces. ACM.
Bischof, A., Obländer, V., Heidt, M., Kanellopoulos, K., Küszter, V., Liebold, B., Martin, K.-U., Pietschmann, D., Storz, M., Tallig, A., Teichmann, M. & Wuttke, M. (2013): Interdisziplinäre Impulse für den Begriff "Interaktion". In: Hobohm, H.-C. (Hrsg.). Informationswissenschaft zwischen virtueller Infrastruktur und materiellen Lebenswelten. Tagungsband des 13. Internationalen Symposiums für Informationswissenschaft (ISI 2013), Potsdam, 19.-22.03.2013. Glücksstadt: Hülsbusch, 448-453.
Bischof, A., Eibl, M., Fraas, C., Kanellopoulos, K., Storz, M., Tallig, A.: DFG-Graduiertenkolleg CrossWorlds. in: Museumskurier des Chemnitzer Industriemuseums und seines Fördervereins, 12. Jg, Dezember 2012. Nummer 30. S. 4-5.
Kanellopoulos, K., Bischof, A.: Design Thinking und qualitative Sozialforschung. MuC 2012, Workshop "Designdenken in Deutschland – Framing und Prototyping in der interdisziplinären Kooperation", 09.09.2012, Konstanz. Veröffentlicht in: Reiterer, H. & Deussen, O. (Hrsg.), Mensch & Computer 2012 – Workshopband: interaktiv informiert – allgegenwärtig und allumfassend!?. München: Oldenbourg Verlag. S. 197-202.
Kanellopoulos, K. (2012): Art. Mobbing. In: Historisches Wörterbuch der Rhetorik, Bd. 10. Hg. v. Gert Ueding. Tübingen: De Gruyter Verlag. Sp. 716-724.