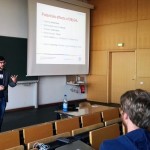 Last week Dr. Johannes Breuer visited CrossWorlds and gave an inspiring talk on Mobile Learning opportunities. He also discussed first results from a current project, where Dr. Breuer and his team develop a quiz-game application for the University of Cologne. This app is designed to help students prepare for exams and uses gamification techniques from popular apps like Quizkampen ("QuizDuell" in German).
We had a great time with Dr. Breuer and hope he enjoyed his stay in Chemnitz. Besides social activities in small groups, the workshop after the talk offered yet another chance to discuss research.
You can download the slides from Dr. Breuers talk here (PDF, 1,5 Mbyte).