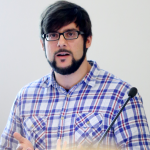 We are happy to annouce that Dr. Johannes Breuer will be visiting Chemnitz this week. Dr. Breuer will be giving a talk in our series on "Interdisciplinary Research on Social Technologies" titled "Can smartphones make people smarter? Challenges and opportunities for the design and use of mobile educational games" on December 10th, 9.00-11.00 am in Room 2/N013 (Neues Hörsaalgebäude).
Dr. Breuer will discuss the potential of mobile games for learning in secondary and higher education, based on experiences and first results from a recently started project on the development and use of a mobile quiz game for higher education.
CrossWorlds invites all interested students and university staff to attend the talk. Please spread the word!
You can read the abstract of the talk and a short bio of Dr. Breuer after the jump.